10 Ways to Improve Communication in Relationships
Learn about healthy communication in relationships and how to improve communication in relationships as well.
What Is Healthy Communication?
Communication is the successful sharing of ideas and conveying feelings. It is also the exchange of information from one person to another through verbal or non-verbal means. Healthy communication is an effective exchange of ideas and emotions between people. Both parties can be open and honest without offering hateful or disagreeable responses.
For communication in a relationship to be considered healthy, exchanging information and sharing ideas must be honest and effective with the feelings of both partners put into consideration.
1
Why Do I Struggle to Communicate with My Partner?
Everyone has different ways of communicating, which may vary based on their words, phrases, voice tones, and body language. Some people share better than others, but there are other various reasons why speaking with your partner is challenging.
One of the most common reasons people struggle to communicate with their partners is fear of rejection, invalidation, or being overbearing. Another reason could be the fear of being vulnerable and opening up too much.
Can You Fix Communication in A Relationship?
Every couple can fix communication in a relationship. This can be done by both partners making an effort to learn about communication skills in relationships. This is built around training to make necessary adjustments in order to communicate in ways that fulfill each partner's needs while being emotionally healthy.
Why Is Communication Important in Relationships?
Communication in relationships is essential to ensure that all relationships are healthy, happy, and can last through disagreements and conflict. The importance of communication in relationships cannot be overstated. When communication is poor, there are more significant risks of conflict, misunderstanding, and disappointment in relationships. The importance of communication in relationships includes:
Sustaining Long-Term Relationships
Although most relationships start based on emotions and attraction, effective communication keeps the relationship nurtured in the long run. When both partners gradually work towards improving communication in relationships, it helps the relationship last longer.
In a relationship without communication, the parties involved often lose touch with one another. There are more arguments, and conflict resolution becomes more challenging than it should be.
Increased Relationship Satisfaction
Improving relationship communication brings out the best in friendship or intimate connections. Couples in a relationship with good communication and freedom of expression are generally happier than those who aren't. In a relationship with good communication, both partners can share their pains, challenges, and happiness, making the relationship more satisfactory.
It takes time to achieve a certain level of trust in a relationship but improving communication in a relationship helps to build trust over time. When both parties are willing, honest, and open in communicating, they begin to rely on one another. This increases their confidence in each other's thoughts and decision-making.
Improving communication in relationships helps build emotional intimacy by making it easier to listen to and understand each other. In this situation, it's easier for each partner to state their preferences and what gives them the most pleasure. Effective communication also makes both parties value each other's opinions and stances.
Better Conflict Resolution
Conflicts in relationships are often caused by different views and ideologies on specific issues. In a relationship, both partners may see things differently and react differently to situations. Therefore, a relationship without good communication could lead to resentment. However, by improving communication in a relationship, both parties will better understand each other's points of view and work to resolve conflict.
2
Signs of Poor Communication
Healthy communication is achieved when feedback is initiated to show that one person successfully received and understood the information passed by the sender. For communication to be effective, the sender of information also has to ascertain that the information was received and interpreted as expected. When there is no sync between the sender and receiver, the purpose of communication is not fully achieved. The following are other signs of poor communication:
In one-way communication, there is no opportunity for the receiver to give feedback to the sender. Information passed across with this method of communication could come off as manipulative and be easily misunderstood.
3
Consistently making negative statements focusing only on problems rather than solutions is another sign of poor communication. Using excessively judgemental or condescending words while trying to communicate can make the other party feel bitter and belittled.
4
Passive-Aggressive Behavior
This is identified by controlling statements passed across as orders or nonchalant comments. This behavior may sometimes spill over to other aspects of life, such as when either partner requires a favor. This passive-aggressive or controlling behavior makes the other party feel unclear or intimidated.
Disrespecting the sentiments of the other party in a relationship while trying to communicate either by cutting them off, telling them to stop talking, or even by portraying rude, aggressive behavior is a significant sign of poor communication. Communicating in this manner can lead to feelings of frustration and contempt from the person who has been cut off.
5
Making use of "you" comments might make the conversation sound more like an accusation and like an avenue to pour out all the blame on the other party. Instead, focus on what you're feeling more than what your partner might have done wrong.
6
Being too personal in a conversation could mean insulting or deliberately using unkind and personal remarks. Getting personal while communicating makes people react emotionally and also get defensive. Healthy communication in relationships involves objectively passing information in a non-accusatory manner.
How to Improve Communication in Relationships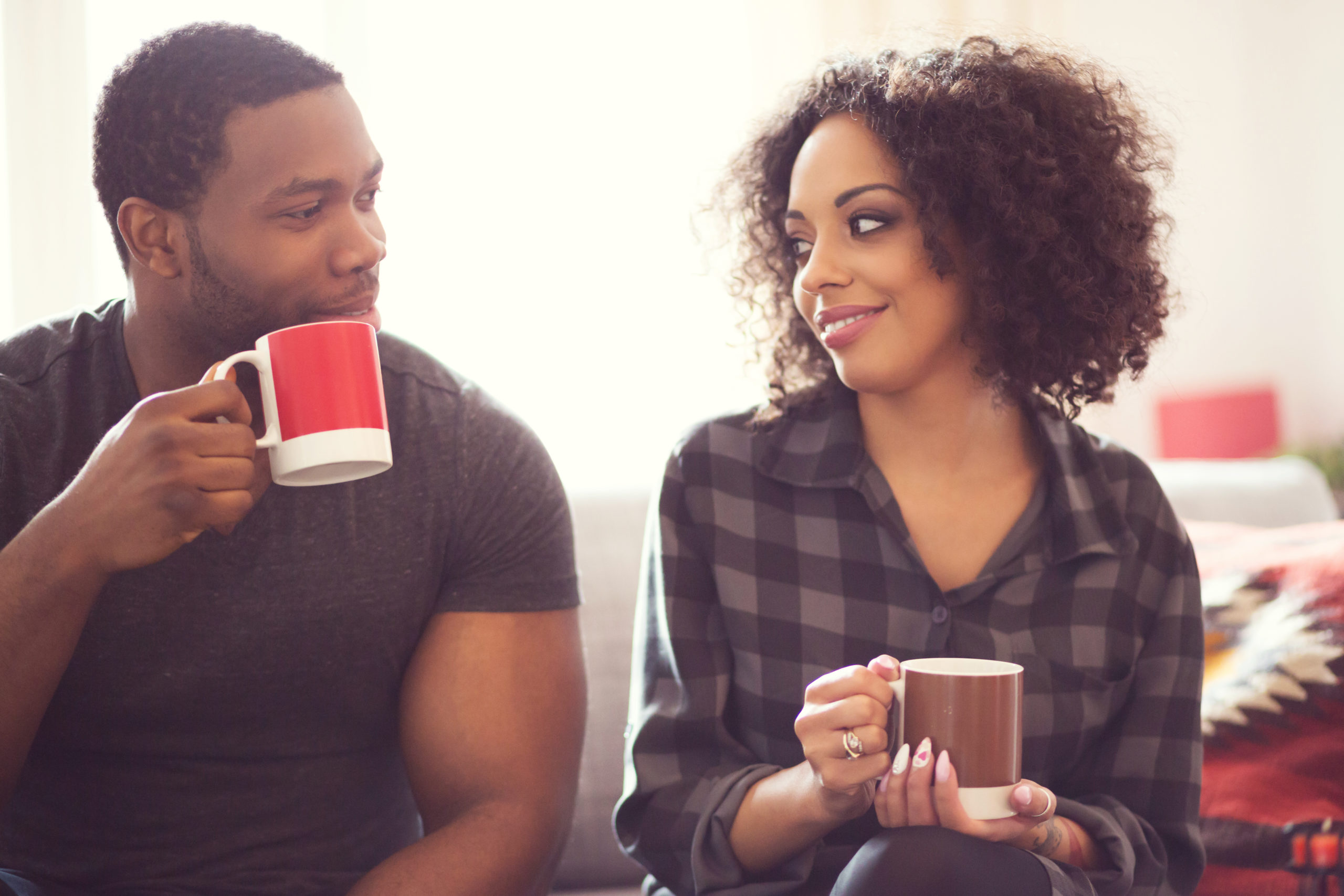 There are many ways that couples can work to improve communication in relationships. Some tips will be detailed below.
It is a good idea to time conversations when both partners are in a good mood or emotionally available. Try not to bombard people with information but give them time to process and give proper feedback.
Break Down Communication Barriers
Communication barriers often alter the message's meaning, causing misinterpretation and misunderstandings. These barriers are prevalent when a person gets defensive due to prior conflict. Communication barriers could include not listening, offering unsolicited advice, or psychological interference. The best way to break down these barriers is by trusting in your partner and making an effort to listen to them actively.
Boundaries are healthy and help maintain a balance between parties in a relationship. Setting clear boundaries helps to minimize conflict by setting standards of what to expect from one another in a relationship. Boundaries, when crossed, could also signify when both parties should have a conversation addressing an issue.
Listening strengthens relationships by showing care, attentiveness, and respect. Listening is more than just hearing; it requires full undivided attention and readiness to put your plan aside and compromise. Active listening helps in improving relationship communication skills.
Understand Your Own Feelings
Understanding your feelings helps you to be more explicit about what you feel and makes it easier for you to communicate what you think in a more straightforward manner instead of hinting and assuming they will understand.
Understand Your Partner's Needs
Understanding your partner's needs makes it easier to get along with them and makes the relationship smoother and develops healthy communication in relationships. Understanding your partner's needs, motivations, and goals helps you to see things from their perspective, helps you to know them better, and helps to improve communication in a relationship.
It is easy to play the blame game, especially during sensitive conversations. Learning how to improve communication in relationships involves understanding that the essence of discussions is not to make the other party feel bad but to resolve issues. Using "I" statements shows that you are willing to take responsibility for your words and actions.
Send Positive Expressions
Irrespective of the issue being addressed, always be positive no matter the end of the conversation. As a listener or speaker, try to be supportive and open to a healthy resolution.
Healthy conversations should have a clear end point and goal. This goal should be specific, measurable, attainable, reasonable, and time-bound. Goals help ensure the actual effectiveness of a conversation in the long run.
The best way to improve communication in relationships is for both parties to regard and treat each other respectfully. Communicating by raising your voice or yelling makes it challenging for both parties to understand each other honestly. Avoiding screaming and speaking with respect can help ensure better communication in relationships.
You Don't Have Much Time?
Improving communications in relationships is a significant hurdle for many couples. It gets worse when there isn't enough time or emotional know-how to straighten things out. However, there are easier ways for couples to invest towards improving communication in a relationship.
Couples Therapy Can Help You Improve Communication in Relationships
Couples therapy
aims to strengthen relationship bonds and settle interpersonal disputes with the help of a relationship expert. It offers effective communication for couples, along with relationship communication styles and communication tips for couples that allow partners to learn how to improve communication in relationships.
However, for couple's therapy to be effective, both parties should be willing to participate and work hard for healthy relationship communication.
Contact A Certified Therapist Now at Pacific Beach Health
Talking to a certified therapist can help you learn more about healthy communication skills and incorporate the skills you have learned into your relationship. At Pacific Beach Health, our wide range of specializations helps every couple understand the importance of communication in relationships while using tested techniques to get closer.
For more information on how to improve communication in relationships, the importance of improving communication in relationships, and relationship communication skills, please contact us at Pacific Beach Health today.