Do I Need a Referral to See a Therapist?
Are you unsure if you need a referral to see a therapist? Pacific Beach Health breaks down the referral for therapist process.
What Is "Direct Access Physical Therapy?"
It can be challenging to know whether you need a referral to see a therapist. The truth is, it depends on your specific situation. In some cases, you may be able to see a therapist without a referral, while in others, you will need one. The following article will define direct access therapy, explain things you should know before seeing a therapist, and answer your questions about whether a referral is needed.
Direct access to physical therapy means a client does not need a physical therapy referral from their primary care provider. Essentially, the physical therapist and client can work together without a prior physician's referral.1 
Why Does Direct Access Physical Therapy Matter?
Studies have highlighted numerous benefits associated with clients having direct access to care. Research has shown that fewer visits are required when a client does not need a physical therapy referral, and overall costs associated with care are less. Additionally, continuity of care between the physician, therapist, and client was not negatively impacted.1 
Things You Should Know Before Seeing a Therapist
Before seeing a therapist and making a psychologist appointment, it's crucial to understand the difference between therapists and psychologists. Keep reading to learn about different providers, when to consult a psychiatrist, access medication management, and tips for finding a good therapist.
According to the American Psychological Association (APA), there are two helpful questions a person can ask themselves when determining whether a referral for a therapist would be beneficial. First, determine whether the problem or situation is emotionally distressing. Next, consider if the problem is interfering with various aspects of life. For instance, is the problem time-consuming or interfering with work, school, or home life? If the answer to these questions is yes, therapy may be helpful.2 
What Is the Difference Between Psychiatrists, Psychologists, and Therapists?
You may be wondering, what is the difference between a therapist and a psychologist? Although psychiatrists and psychologists are licensed to provide psychotherapy, psychiatrists primarily focus on medication management while psychologists utilize behavioral or talk therapy. The term therapist has a wide range of meanings. Therefore, it is essential to ask about credentials and scope of practice when speaking with a potential therapist.3 
What Will Therapy Do for Me?
If you've received a referral for a therapist or scheduled a session, you may be wondering what you will get out of it. Physical therapy, psychotherapy, and various other forms of treatment are designed to help individuals improve their situation and health. For example, improving bodily function or enhancing healthy behaviors.4 
Can a therapist prescribe medication? Clients can receive medication prescriptions during therapy appointments depending on the therapy and provider. If a person is referred to a psychiatrist, the therapist prescribes medication for mental health. A physical therapy referral could result in medication for chronic pain.4 
How Do I Find a Good Therapist?
When searching for a self-referral psychiatrist or counseling referral, it's vital to ask about their training, experience, types of treatment offered, medication availability, and how progress will be measured. You can even ask the provider about the difference between therapist and psychologist and who they are.
A good therapist is well versed in challenging clients in therapy while respecting boundaries and maintaining positive regard. If you're struggling to access mental or physical therapy without a referral, consider utilizing a therapy referral service.5 
Are Physical Therapists Trained to Provide Medical Care Without a Referral?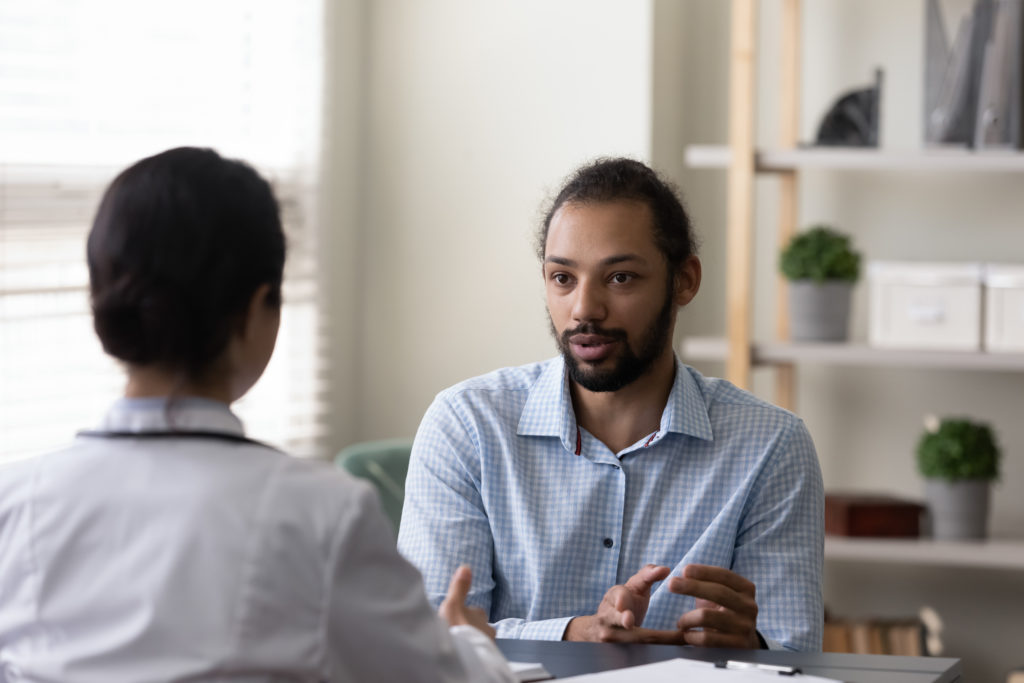 A therapist referral is entirely unrelated to whether a provider is qualified to provide treatment. When reviewing referral sources for therapists, their education, training, and credentials should be readily accessible.
Is It Safe to See a Physical Therapist Without a Referral?
Is physical therapy without referral safe? If the therapist is licensed and credentialed to provide your services, it would be considered safe, regardless of referral status.
Do I Need a Referral to See a Therapist?
Whether you need a referral to consult a psychiatrist or therapist depends on multiple factors. Does your state allow a therapist and client to complete an evaluation without a physician's referral? Does your health insurance require a referral to consult a psychiatrist or physical therapist? Does the therapist require a referral from your primary care provider?
If your state and health insurance allow you to consult a psychiatrist without a therapist referral, you can self-refer.
Why Are Referrals So Difficult?
Referrals can be both beneficial and challenging for clients. When making a referral, therapists diligently address the client's unmet needs while mitigating the possible dangers if the client does not follow through. Additionally, it can be challenging to fulfill referrals promptly.6 
Appropriate referrals ensure clients do not fall through the cracks or feel their needs are not being met. Ensuring appropriate referrals also prevents the client from feeling abandoned by the therapist.6 
When Should You Refer Clients to Another Professional?
A therapist may need to refer a client to another professional in some situations. The following sections will explore why therapists may refer their clients to receive services elsewhere.
They Need Specialized Help Outside of Your Areas of Competency
When challenging clients in therapy, it's essential to consider your scope of practice and whether they are getting the specialized help they need. If specialized care would better meet the client's needs, a referral may be appropriate.
The Therapeutic Relationship Is Unhealthy or Unsafe
If the therapeutic relationship between the therapist and client is unhealthy or unsafe, a provider may refer the client to another provider for services. For example, in some therapeutic relationships, transference begins to occur. Transference refers to a client's intentional or unintentional redirection of their feelings. For instance, a client may project their feelings onto their therapist. Transference refers to a client's behavior when they transfer their emotions onto their therapist.
Treating The Client Affects Your Own Mental Health
If a client is affecting a provider's mental health, a referral is generally in the best interest of the therapist and client. For example, countertransference refers to a client's experience of having a therapist project their feelings.
In contrast, since transference refers to a client's ability to project onto the therapist, it may affect the therapist's mental health. If transference occurs or boundaries become challenging to maintain, a provider may refer the client to another professional.
You Aren't Available to Offer the Sessions Needed
In professional and medical settings, it's essential to find a provider that can work with your schedule and needs. If a therapist cannot offer the number of sessions needed, they may refer to a provider with greater availability.
How Do You Refer a Client to Another Professional?
Referring a client to another professional is a sensitive matter that must be handled ethically and compassionately. The following sections will provide tips for referring clients without leaving them feeling abandoned by the therapist.7 
Manage The Referral Process Sensitively
Throughout the referral process, it's essential to check in with the client to see how they're feeling and address their concerns.
Involve The Client in Choosing a New Clinician
Instead of telling a client who they will see next, consider working together to list what they value and look for in a clinician. This will help the client stay involved in their treatment and care plan.
Use A Therapist Platform to Find Great Referral Options
Therapist referral platforms are an excellent resource for providers and clients. A provider can generate a customized list of therapists that meet the client's requested criteria.
Set Up the New Therapeutic Relationship for Success
With the client's permission, it's critical to communicate with the new provider and ensure they have access to the client's records. This will facilitate a seamless transition for the client.