Psychiatrist vs. Psychologist
Psychiatrists vs. psychologists are both mental health professionals that can treat a variety of conditions.
Mental health is a complex field, and people struggling with mental health issues can often find it difficult to know where to turn for help. There are many different types of mental health professionals out there, each with their own area of expertise.  
A psychiatrist is an expert in the field of psychiatric medicine. Psychiatrists diagnose patients with various types of disorders such as depression, anxiety, or addiction to drugs or alcohol. Psychiatrists are medical professionals who are licensed to write prescriptions that can help as part of the mental health treatment process as well.
Psychologists, on the other hand, are experts in the field of mental health, seeking to understand and treat psychological disorders. A professionally trained psychologist can offer you a number of services including individual therapy, group therapy, family therapy, and behavioral therapy in order to help patients and work with them.
Is Psychiatry a Type of Psychology?
While psychiatrists and psychologists both treat people for mental health conditions, they are not the same thing. Psychiatry is not a type of psychology. The main difference between a psychologist and a psychiatrist is that psychiatry is considered a branch of medicine. Psychiatrists are medical professionals who are licensed to conduct procedures and write prescriptions.
1
Common Types of Mental Health Professionals
There are many common types of mental health professionals that can provide mental health counseling, therapy, and treatment.  
A mental health psychiatrist is someone who has gone through years of training to be able to diagnose and treat people with disorders like depression. Psychiatrists can provide mental health services such as talk therapy, behavioral therapy, and may prescribe medications to help with certain mental health conditions.
A psychologist is a mental health therapist who studies human behavior. Psychologists can provide many mental health services that help improve mental wellbeing, as well as treating behavioral disorders.
Mental health counselors are trained to help people with substance use disorders or mental illness. They provide therapy, education about the condition and symptoms, and support for family members who care.
A social worker is a highly skilled professional who can provide emotional support, practical assistance, and guidance to patients. Clinical social workers work with individuals or families to address and diagnose issues such as mental, behavioral, and emotional problems.2 
Mental health nurses are the first responders for people with emotional and psychological problems that may lead to violence, substance abuse, or chronic illnesses. The role includes helping those who have had trouble recovering from accidents as well as providing initial assessments before therapy sessions begin so therapists can create personalized treatment plans based on each client's needs.
Psychiatrist vs. Psychologist: What's The Difference?
There are many differences between a psychologist and a psychiatrist that make these each unique professions that offer different services to patients.  
When looking at the difference between psychiatrist and psychologist, one of the main things that stand out is the level of training and education. Psychiatrists are medical professionals who go to medical school and must enter a residency after the completion of their schooling. On the other hand, most psychologists have a master's degree in psychology. The topics that both professions study during their schooling is another main difference as well. Psychiatry focuses on medicine and human biology, whereas psychology focuses on human behavior and development.
3
Another difference in the comparison of psychologists vs. psychiatrists is prescriptive authority. Mental health psychiatrists are licensed medical professionals who can write prescriptions for the treatment of mental health conditions. On the other hand, a psychologist is a mental health therapist who will only provide therapeutic treatment to patients and cannot prescribe medications.
If you are trying to determine if you should receive treatment from a psychiatrist or psychologist, you should also look at the treatments that each of these respective professions can provide. A psychiatrist is a medical doctor who can provide more in-depth mental health treatment that includes medical procedures and writing prescriptions. Psychologists are only trained and licensed to provide therapeutic services such as talk therapy and behavioral therapy.
There are also differences in the conditions that a psychiatrist or psychologist may treat. Psychiatrists tend to treat individuals with more serious mental health conditions where more medical intervention may be required. Psychologists are often better for those in need of more traditional talk therapy or other resources for building life skills and coping mechanisms.
Psychiatrist vs. Psychologist: How Do I Choose?
If you are trying to choose whether a psychiatrist or psychologist is the best fit for your needs, here is a list of what each of these therapists can help you with.
What Do Psychologists Do?
Psychologists can provide you with a variety of different therapies including:
Cognitive-behavioral therapy (CBT)
Humanistic therapy
Integrative or holistic therapy  
Psychoanalytic therapy
Psychodynamic therapy4   
What Do Psychiatrists Do?
Psychiatrists can provide you with a variety of different services in mental health treatment including:
Admitting you to a hospital if required  
Helping you manage a long-term mental health condition
Providing advice about lifestyle changes
Giving second opinions based on what other doctors and health professionals have told you
Providing urgent care for sudden or severe mental health problems
Referring you to other health professionals
Writing prescriptions for medications that help with mental health conditions5 
Common Types of Psychotherapy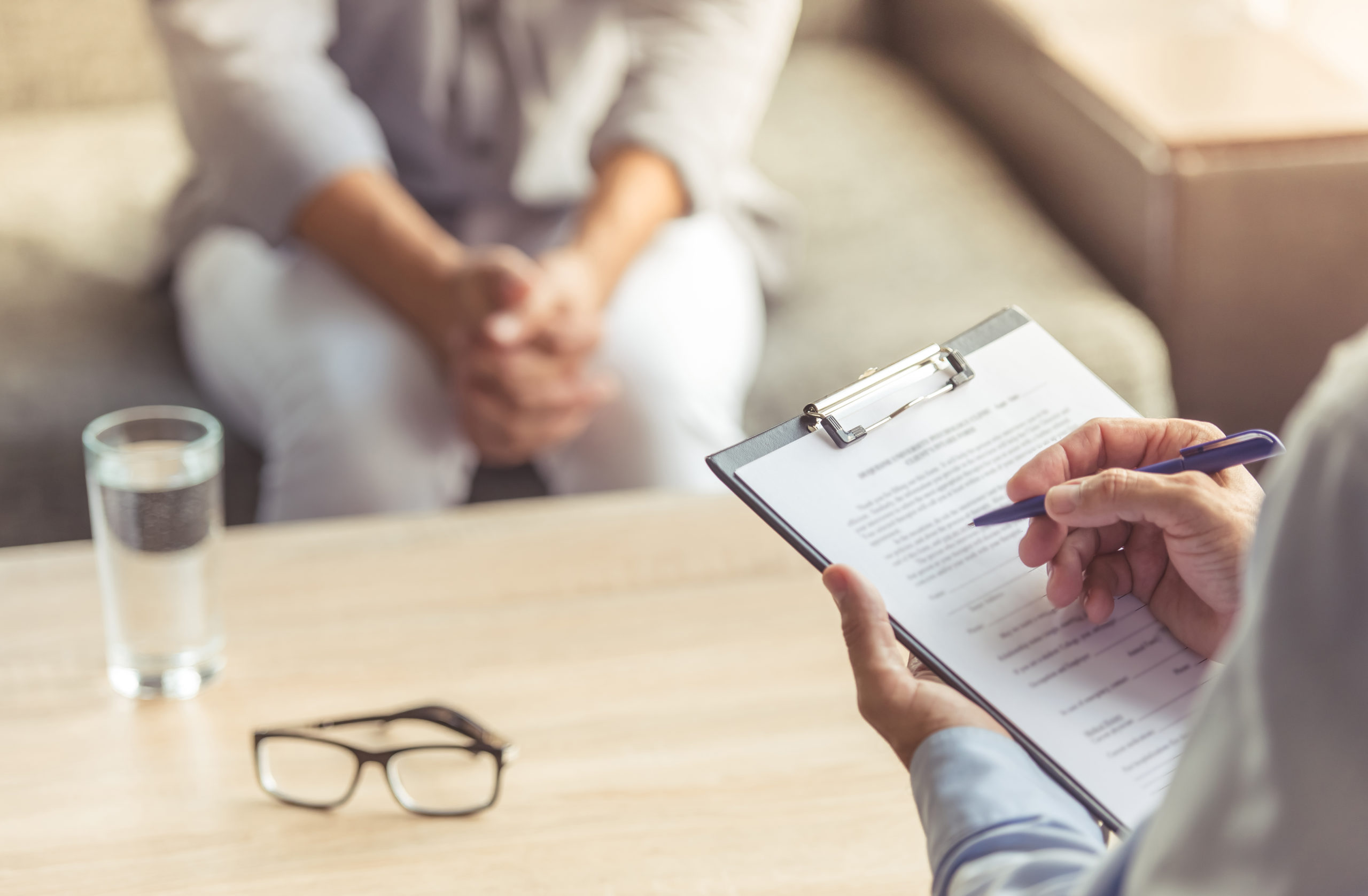 There are many different common types of psychotherapy available that can help during mental health treatment. Some of these practices are utilized both by psychiatrists and psychologists.
Humanistic therapy is a holistic approach to mental health treatment focused on free will, human potential, and self-discovery.
Behavioral therapy is a form of therapy that is centered around how a person's thoughts affect their behaviors. Over time, patients in behavioral therapy can learn how to manage their thoughts in order to create more positive behavioral patterns.
Cognitive therapy is a short-term form of psychotherapy that focuses on how the way we think affects how we feel emotionally. Cognitive therapy is focused on problem-solving in order to create more positive thoughts and behavioral patterns.
Group therapy provides a community approach to traditional talk therapy. Group members will share their thoughts and experiences to allow members of the group to relate to each other and grow together over time.
Psychodynamic therapy is an approach that involves gaining a deeper understanding of one's emotions and how they affect thoughts and mental processes. Over time, patients learn how to recognize emotions and manage how they affect their thoughts and behaviors.
Holistic therapy is based on mindfulness techniques such as meditation, yoga, and spiritual practices. This type of therapy is centered around treating the whole person including the mind, body, and spirit.
Contact a Mental Health Professional at Pacific Beach Health
Mental health is a complex and ever-changing field, meaning it's important to know as much as you can in case you or a loved one need help or expertise. There are many different types of mental health professionals out there, each with their own area of professional knowledge. If you are struggling with mental health issues and would like more information or advice on what type of professional to see, please contact Pacific Beach Health today. Our team of experts, including psychologists and psychiatrists, will be happy to help you get started on the road to recovery.  
Pacific Beach Health offers a variety of therapeutic services that are based on a holistic approach to therapy. The holistic behavioral healthcare at Pacific Beach Health includes guided spirituality, psychology, and other forms of mindfulness therapy.
If you would like to learn more about our services, you can contact us today for more information about how we can help and support you with your mental health journey.