Various types of mood disorders affect millions of people. Learn more about the different types, side effects, and treatment.
An estimated 21.4 percent of American adults will be affected by different types of mood disorders in some form within their life.1  After excluding prenatal and birth related hospitalizations, mood disorders are one of the most common causes of hospitalization in adults under 45 years old.2
Mood disorders pose a widespread public health problem. So understanding the different types of mood disorders, their causes and symptoms, and what kinds of mood disorder treatment are available is a significant part of fostering positive mental health and managing the effects of these mental illnesses.
The term "mood disorder" is a broad classification of a multitude of mental illnesses. These types of mental
disorders affect
how the brain functions, particularly in regard to emotions. Adults and children can be affected by different kinds of mood disorders and no two mood disorders are alike. The specific disorder a person has, their individual symptoms, the severity of their illness, and their external circumstances, will all factor into a person's mental health experience.
There are several types of mood disorders, each varying in clinical presentation and severity.
Major or Clinical Depression
Depression is the most common mood disorder, affecting 280 million people in the world.3  While everyone may feel sad at times, depression is a mental illness with symptoms that go far beyond just simply feeling sad.
Just as there are different types of mood disorders, there are also different types of depression.
A Deeper Look at Depressive Disorders
Postpartum Depression (Peripartum Depression)
Postpartum depression (PPD) is a type of depression that occurs after childbirth. It is normal for the mind and body to experience immense amounts of stress during pregnancy and labor, but if more than two weeks pass after your birth and you are still feeling symptoms of depression or are having difficulty developing an emotional bond with your newborn, it could be a sign of postpartum depression.
Studies show that PPD occurs in 11 percent of women after birth.4 Learning to identify the symptoms can help you to receive help sooner, creating a healthier future for you and your child.
Some of the symptoms of PPD include
Depression that goes beyond so-called "baby blues"
Difficulty emotionally connecting to your child
Mood swings
Anxiety
Trouble concentrating.
Persistent Depressive Disorder (Dysthymia)
Persistent depressive disorder is a chronic or long-term form of depression where symptoms may persist for years at a time. Symptoms can include losing interest in activities you once loved, or a lack of motivation to complete your daily tasks.
Seasonal Affective Disorder (SAD)
Seasonal affective disorder
(SAD) is a form of depression that occurs in response to changes in weather and seasons around the year. It is most commonly experienced during the winter months, when there is less daylight. Symptoms of SAD tend to decrease in the spring, when there is more sunlight.
Psychotic depression is a serious mental illness that usually requires hospitalization. With this form of depression individuals may experience hallucinations, delusions, and other symptoms of psychosis.
Depression Related to Substance Abuse
Depression can sometimes occur as the result of a substance use disorder or substance abuse. While recovery can help reduce the symptoms of depression, withdrawal should be conducted in a medical setting to help reduce the risk of side effects.
However, once the body has completely eliminated all traces of the abused substance and returned to its natural function, the symptoms of depression usually resolve themselves. Withdrawal and recovery can be a long process, sometimes lasting several weeks or even months.
Bipolar disorder is a disorder that affects many people. It's characterized by cycling between mania and depression. Episodes of either mania or depression usually take place over a span of weeks. Despite common misconceptions, instantaneous and abrupt mood swings are not characteristic of the disorder.
The cause of bipolar disorder has not yet been identified, though correlations between genetics, environment, altered brain anatomy and chemistry, and developing disorder have been made.
There are two types of bipolar disorder. Both are characterized by episodes of extreme mania or depression but there are significant differences between the two.
Overview of Bipolar Disorder
Bipolar Type I vs. Bipolar Type II
The number one defining characteristic that sets bipolar I apart from bipolar II is the severity of manic episodes. Bipolar I is characterized by experiencing full manic episodes. Bipolar II is characterized by hypomanic episodes, a less severe form of mania.
With regard to depressive episodes, bipolar type I may or may not include depressive episodes. However, the diagnostic criteria for bipolar type II requires the experience of major depressive episodes.
The frequency and severity of these episodes can be made worse by a number of factors including
Stress
Lack of sleep
Poor diet
Lack of exercise
Substance abuse
Cyclothymia Disorder (Cyclothymia)
Cyclothymia is a rare mood disorder that is characterized by a cycling between milder highs and lows than ones associated with bipolar disorder.
Signs and symptoms can include
Euphoria
Extreme optimism
Grandiose self-image
Increased talkativity
Poor judgment and decision making
Increased irritability
Mood Disorders Causes and Risk Factors
When understanding the different types of mood disorders, it can be beneficial to learn more about the causes and risk factors. This is especially important during treatment when working to find the root cause of a disorder.
What Causes Mood Disorders?
Like with most mental illnesses, it can be difficult to determine a single, direct cause for a mood disorder. However, studies have shown that genetics may play a role in the development of mood disorders, as well as certain other risk factors.
7 
Mood Disorders Risk Factors
Different people have different risks for developing a mood disorder. For instance, studies have shown that female individuals are more likely to have a mood disorder than males. However, there are additional mood disorder risk factors, some of which are external to the individual themselves, such as:
Family history
Trauma or major life changes
Physical illness or use of certain drugs
Brain function
Environment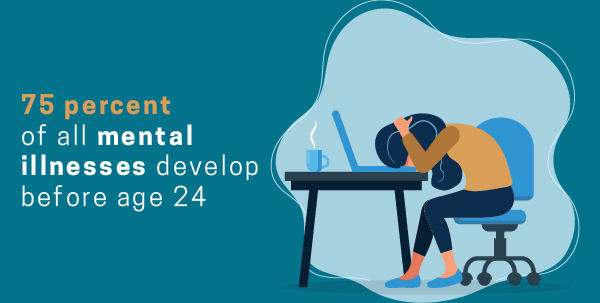 Signs and Symptoms of Mood Disorders
The signs and symptoms of mood disorders may vary depending on the exact disorder. However, one sign that a mood disorder may be present is if the individual shows signs of being unable to regulate their emotions. This could be seen in highs or lows, or severe mood swings between the two.

While some fluctuation in emotion is normal, especially following instances of acute stress–such as the death of a loved one, or changing jobs–persistent changes in mood can indicate the possibility of a mood disorder.
Common Symptoms of Major Depression
Major depression can appear in many different forms, but there are common symptoms, such as:
Feelings of hopelessness
Increased irritability
Lack of interest in activities
Changes in sleeping patterns
Weight gain or loss
Anxiety
Difficulty concentrating
Memory problems
Fatigue
Feelings of worthlessness, shame, or guilt
Thoughts of death
Suicidal thoughts or actions
Common Symptoms of Bipolar Disorder
While bipolar disorder can differ based on the exact type, its common symptoms include:
Depression
Lack of energy
Self-doubt
Mild delusions
Lack of appetite
Illogical thinking
Manic behaviors
Grandiose thoughts or inflated self-image
Distractibility
Irritability
Excessive energy
Like any other illness, a professional healthcare provider such as a doctor, or, in the case of a mental illness, psychiatrist, will be able to evaluate the present signs and symptoms and provide a diagnosis. Your doctor may utilize several different methods when diagnosing a potential mood disorder.
How Are Mood Disorders Diagnosed?
Below are some methods a mental healthcare professional may use to diagnose mood disorders.
Your health provider will first conduct a physical exam to rule out any physical conditions that may explain your symptoms and also gauge overall health.
A psychiatric evaluation is the best way to ensure an accurate diagnosis of a mood disorder. When conducting a psychiatric evaluation, the healthcare provider administering the exam will refer to certain standardized criteria when evaluating the patient. The exact criteria vary for each mood disorder.
Lab tests may include taking different kinds of samples from the body hair to gather information on a person's health that cannot be gleaned from a traditional physical exam. This can help determine whether a deficiency or substance use disorder may be resulting in symptoms which mimic those of a mood disorder.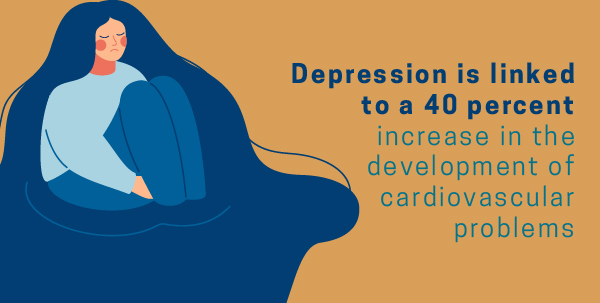 Diagnostic Criteria for Common Mood Disorders
Each mood disorder has its own criteria required for diagnosis, according to the Diagnostic Statistical Manual (DSM). When psychiatrists evaluate patients for any disorder they will typically refer back to the DSM to inform their diagnosis. Even though there are specific criteria for each disorder listed, practitioners may also use their discretion in assigning diagnoses. This is common in cases where an individual may meet some, but not all, the diagnostic criteria for a diagnosis.
Diagnostic Criteria for Depression
To diagnose a potential case of depression, your healthcare provider will evaluate the frequency and severity of your symptoms. The primary indicator of a potential depressive mood disorder is feeling depressed most of the time. People with depression are still commonly able to appear happy some of the time. Other diagnostic criteria for depression include fatigue and loss of interest.
Diagnostic Criteria for Bipolar Disorder
Providers attempting to diagnose bipolar disorder will typically ask patients to describe their symptoms of mania, and depression, to determine if they meet the diagnostic criteria for bipolar disorder. Diagnostic screening tools, like self-reported surveys, are often used in this process. In order to meet the diagnostic criteria for
bipolar disorder
type I, the patient must have experienced at least one manic episode which lasted for at least a week or resulted in hospitalization and have other symptoms consistent with the disorder. For bipolar type II, a person must have experienced a hypomanic episode, and meet other diagnostic criteria.
8
Mood Disorders Prevention
If you feel that you are at risk for a mood disorder, then you may be wondering if there are methods of prevention or treatment.
Can Mood Disorders Be Prevented?
As of now, there are no guaranteed methods of preventing the development of a mood disorder. However, there are ways to reduce the severity of symptoms. Catching a developing mood disorder early can allow for early treatment.

It's important to maintain a healthy connection with your mind and body to notice when something may not be right. If you have symptoms that are concerning, you should see your doctor to formulate an effective treatment plan.
It can be difficult to determine what is a normal change in mood and what is an indication of a possible mood disorder. There are many causes of mood shifts that do not indicate a mental illness, including
Hormonal changes
Menstruation
Acute stress
Lack of sleep
Hunger
If you're experiencing chronic mood swings, extreme highs, or extreme lows, or if you're finding yourself experiencing chronic periods of depression, then it may be time to contact a doctor. In cases where mood swings feature violent outbursts, medical attention is especially important.
Treatments for Mood Disorders
There are many treatments available for mood disorders, including both medications and psychotherapy.
A pharmaceutical approach can be beneficial in treating mood disorders. Medications such as antidepressants are often utilized in helping reduce the severity of symptoms while also promoting more balanced brain chemistry. Some of the most common medications used as a mood disorder treatment include
Antidepressants
Mood stabilizers
While medication can be helpful as a form of mood disorder treatment, studies have shown that oftentimes a single medication is not fully effective on its own in around half the cases of mood disorders.9 
Psychotherapy is a holistic, research-backed method of better understanding and promoting mental well-being in the face of a mental illness. One of the most commonly utilized psychotherapy methods is Cognitive-Behavioral Therapy, which can help rebalance the mind and body while fostering understanding of how certain mindsets and thoughts can result in different behaviors.
CBT is especially beneficial in treating mood disorders and substance use disorders.
A Deeper Look at Psychotherapy
A Combination of Psychotherapy and Medication
Both medicine and psychotherapy address different parts of a mood disorder. Medication addresses the symptoms and how having a mood disorder can make a person feel. Psychotherapy focuses on generating a better understanding of the effects of mental illnesses, while also redirecting thoughts, and promoting healthy coping mechanisms. In combination, psychotherapy and medication may be a beneficial option to consider as a mood disorder treatment.
Treatment for Mood Disorders at Pacific Beach Health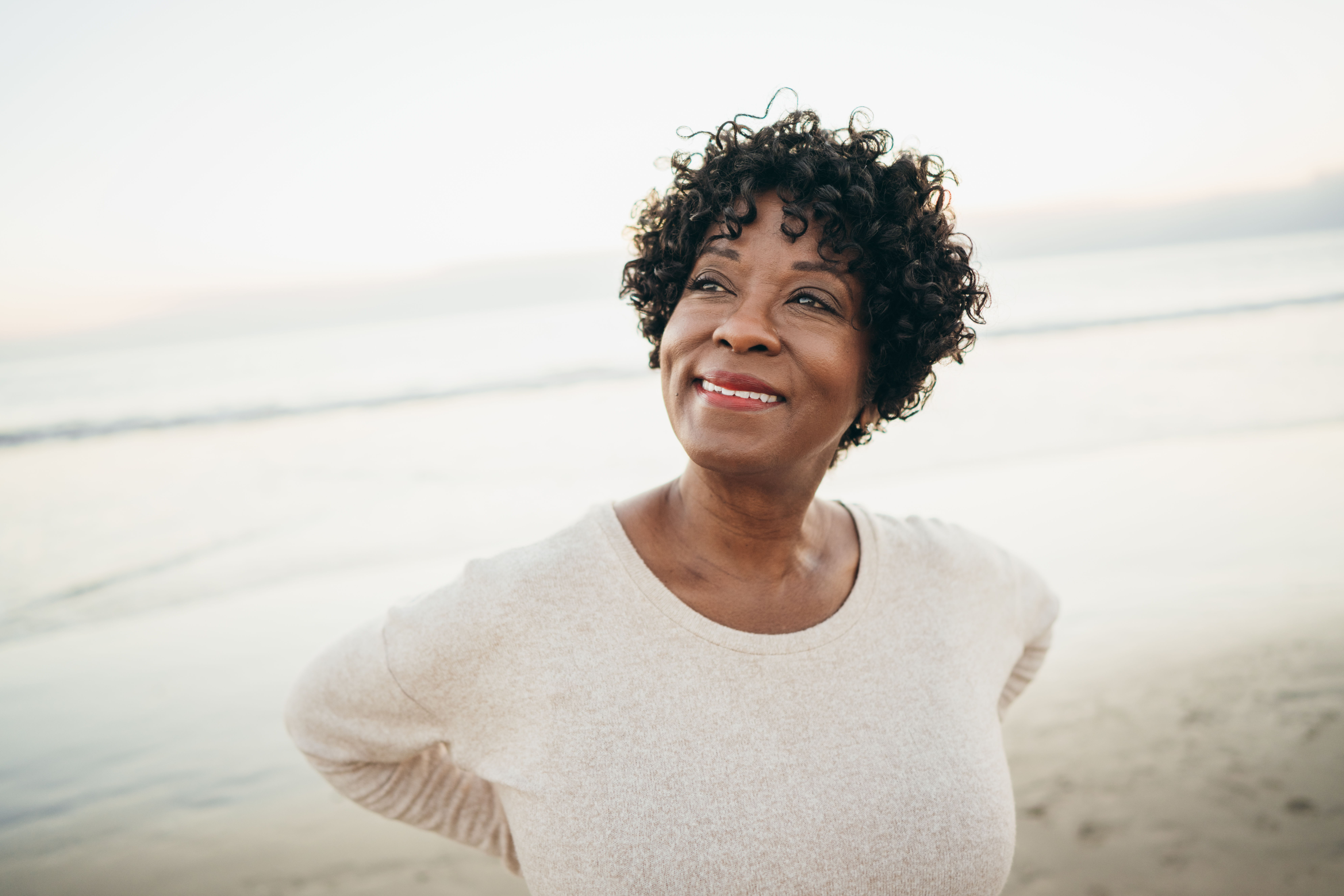 Navigating a mood disorder can be difficult. It can be hard to connect with those around you, and you may not feel like your best self. However, treatment can help restore balance to your life by addressing the root cause of a mood disorder while also helping reduce the severity of symptoms.
At Pacific Beach Health, you can find a variety of holistic mental illness treatments designed to help you reconnect with those around you while also realigning your mind, body, and spirit.
Our Mood Disorders Treatment Programs
Mood disorders can alter the way you're able to interact with your surroundings–whether it's with your family and loved ones or with your environment. The emotional volatility associated with mood disorders can make it difficult to maintain and navigate personal relationships, and can often create situations where you feel out of sync with those around you.
At Pacific Beach Health, we specialize in treating mood disorders through a holistic approach that integrates diverse therapies to help individuals with mood disorders to better regulate and understand their emotions, restore mind-body balance, and foster healthier interactions with loved ones.
Here at Pacific Beach Health we believe in taking advantage of the beautiful southern California area with our ecopsychology approach. This unique type of therapy combines traditional, research-based psychotherapies with nature-oriented activities to allow you to explore your environment while reconnecting with the things that matter most.
You can expect to find a welcoming, family-like setting with a focus on spiritual integration and emotional recovery. We offer a variety of therapies and counseling, as well as additional service to help you better understand and treat your mood disorder.
As of now, there is no cure for mood disorders. However, treatment can help to manage symptoms and reduce their severity, all while providing healthy coping mechanisms to help you to better interact with your families and loved ones, connect with yourself, and reclaim the joy once had.
To begin your mental health journey today, contact us.