What Are TikTok Tics? : TikTok Expands Positive Representation of Tourette Syndrome
Tik Tok is on the cutting edge of destigmatizing Tourette syndrome and other mental illnesses. Learn more about the pros and cons of the app and how to take back control of your life in this article.
The Onset of Tourette's Syndrome
Tourette syndrome is a neurological disorder that develops in the prepubescent years. In many cases, the condition subsides in the early twenties. However, some individuals exhibit symptoms for the rest of their life.1 
Here are a few facts about Tourette.
Age : Individuals with Tourette typically have co-occurring disorders that present themselves as a precursor for Tourette's. For example, children as young as three may begin showing signs of attention hyper deficit disorder or behavioral issues that are commonly associated with the condition. Typically, the condition reaches its peak between ages ten to twelve in which a patient will have little to no control over the intensity and frequency of their tics. 2
Gender : Males are more likely to develop Tourette's syndrome symptoms at a rate of one to three. However, studies show that women with Tourette's may experience more intense and uncontrollable tics than their male counterparts. Gender variances in terms of intensity are one of the few factors of Tourette symptoms that is consistent across most cases. 4
Family history : Tourette syndrome is a dominant gene that has a 50% chance of being passed on. 5 Individuals with Tourette syndrome may be one of the only ones in their immediate family with the condition. It can add to the stressors of both having the condition and raising a child that has the condition.

Psychosocial stresses :

Severe stress and fatigue temporarily reduce the signs of

Tourette's

, such as motor or vocal tics.

It

is

worth mentioning that

Tourette's

does not

affect

intelligence. 
Tourette's tics are the physical and audible manifestations of Tourette syndrome symptoms. A person may exhibit one or both types of tics throughout their entire life, albeit with increasingly reduced frequency. 
Simple motor tics are uncontrollable movements using a limited muscle group. They can include blinking, head movements, single-leg movements, etc. 6 Simple motor tics are the most common symptom of Tourette's.  
In comparison, complex motor tics require multiple muscle groups. Coordinated movements such as compulsive pacing or repetitive dance are an example of complex motor tics. Equally likely, a person may create a series of movements to satisfy the tic. For example, an individual may clap, jump, then grimace, in that order, every time. The exact complex tic is highly individualized. 6  
Complex vocal tips occur when an individual uses words, phrases, swears, or vocal mimicry to satisfy their tic. 6 Other types of tics include nervous tics and more complex tics that evolve into movement disorders.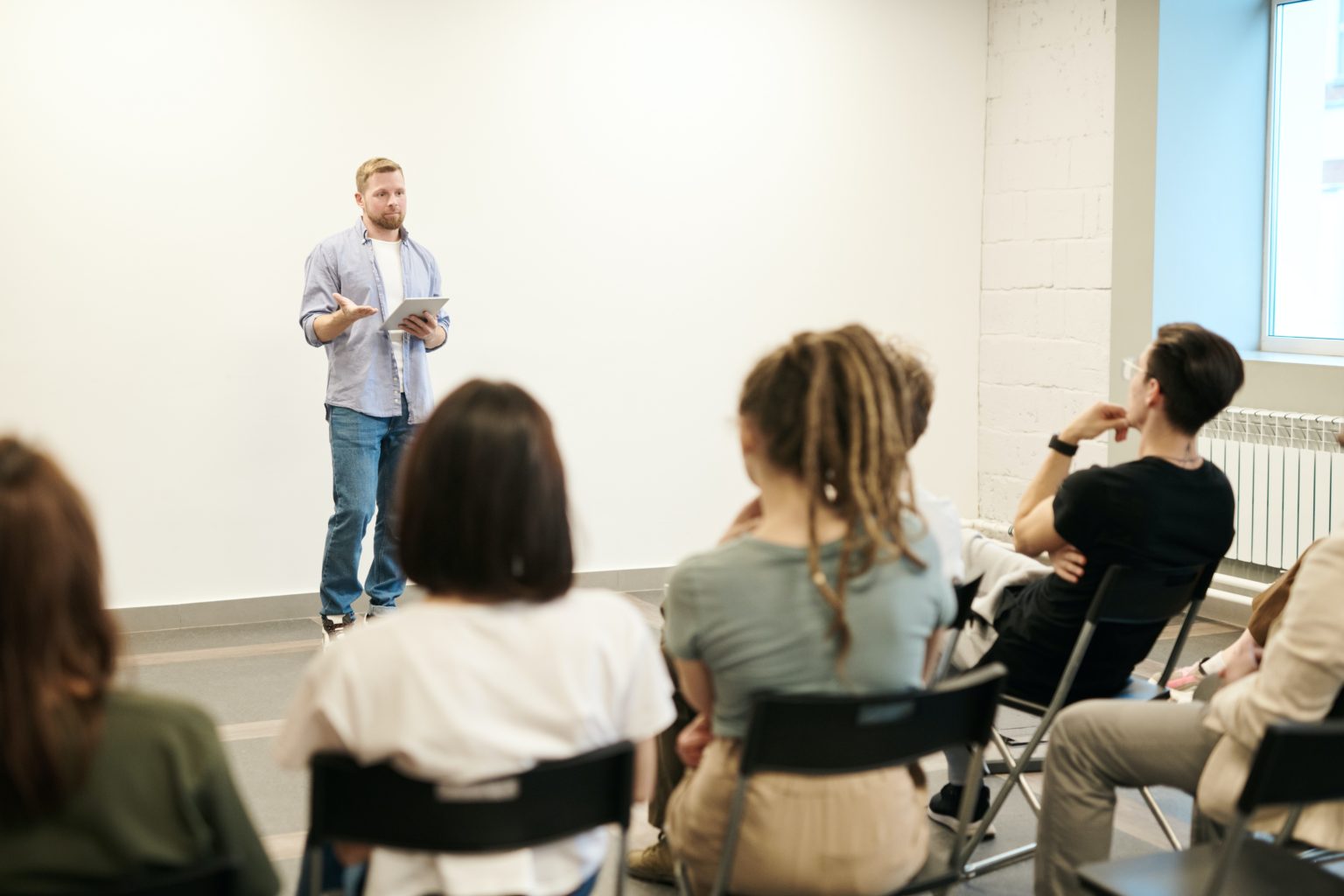 Diagnosing Tourette's syndrome symptoms requires a pediatric neurologist for children and a thorough review of patient symptoms, observations, medical history, and brain examinations. Here are the methods.  
Triggers are the contextual, external stimuli that cause Tourette's tics. Common triggers include being afraid, stressed, nervous, and overstimulated. There's a link between multitasking and a temporary increase in Tourette's tics.7 
Neuroimaging diagnostic tests study the structure and development of the brain. There is a focus on brain matter, cortical structures, and the development of the prefrontal cortex.8 Neurological exams are also in place to chart brain connectivity and neurological speed. The goal is not just to diagnose Tourette's as it appears but also to learn more about the condition in general.  
Risks of Tourette syndrome
Like any condition, there are associated risks. Tourette's does not impact intelligence, and it is not degenerative. This fact means a person with the condition can lead a long, full life even if their symptoms don't recede.  
Individuals with Tourette's have an increased risk of seizures and epilepsy.9 This issue is largely due to the synaptic misfiring of the conditions and responses to overstimulation. Tourette's is covered under the Americans with Disabilities Act to help curb the impact the condition has on day-to-day activity.  
Tourette's increases the risk for emergency room visits due to several factors. Self-injury, aggression, seizures, and suicide attempts are some of the most common reasons.10 
Positive Representation of Tourette's in Social Media
A growing movement on social media is self-care and self-love. To this effect, more and more influencers are maintaining a message of body positivity and judgment-free safe spaces for those suffering from mental illnesses. In stark contrast to prior generations, mental health as a whole is being slowly but thoroughly destigmatized.  
Destigmatizing Neurological Conditions 
There is a growing awareness of the actual hardships of mental illness and the large role society plays in perpetuating those hardships. By destigmatizing these conditions, the door opens for treatment and improved quality of life.  
Many of the historically negative societal views on mental illness stem from misinformation. Thanks to more and more therapists and individuals with mental illness taking their knowledge online, misinformation is curbed.  
Social Media may be increasing cases of new-onset tics 
There is a drawback to prolonged social media use for people with Tourette's. The added stimulation, fast pacing, and flashing colors can increase tics. However, these cases are rare, and more research is required.11  
TikTok Tourette Syndrome Videos in the COVID-19 Pandemic
TikTok, the app best known for its short clips, has recently been used to spread awareness about Tourette's by those affected or educated on the matter. Many trending videos showed the day-to-day lives and challenges of Tourette's. It's no stretch to say that this increase in awareness furthers the goal of de-stigmatization and uniting individuals with Tourette's.11
TikTok Tics
TikTok tics is an occurrence in which a person develops Tourette-like tics from watching a video of other Tourette tics.12
Reassurance 
Anxiety and stress can cause an increase in tics. Practicing reassurance and positive thinking is a great way to reduce stress and the symptoms of Tourette's. 
These are the options for treating Tourette's.  
Comprehensive-Behavioral Intervention Therapy
Comprehensive-behavioral intervention therapy is an in-depth practice that aims to change a person's root habits. The goal is to reduce the frequency and intensity of Tourette's tics by giving a person more control over their mind and body.13
Many individuals can suppress their tics temporarily. However, this suppression is often followed by acute onset explosive tics that are uncontrollable. Through CBIT, a person gains long-term control over their symptoms, including verbal tics, rapid onset tics, and movement disorder.  
Reversal therapy refers to physically counteracting the effects of tics. It begins by identifying a tic and then finding an action that entirely prohibits thetic. For example, if a tic involves rocking back and forth, then the prohibiting action would be to stand up and stretch.13   
A function intervention involves learning about and dissecting the emotional state of a person before and after they have tics. In doing so, a person becomes more aware of what to expect following an episode. It can also help uncover triggers that a person may be unaware of.14    
Medication can be used to reduce the effects of Tourette's. There is no single medication that works for all patients. Using medication for Tourette's doesn't cure the condition but can make certain aspects more manageable.  
Depression
Depression can worsen the effects of Tourette's syndrome and lead to frequent acute onset explosive tics. It can require psychiatric treatment to overcome. Depression can be more intense in individuals with an unmanageable complex tic as it prevents them from hiding their condition in day-to-day life.
Anxiety
A person may choose to avoid family and friends out of fear that they will be ridiculed or judged due to their condition, which can cause anxiety. Anxiety can impair sleep, cognitive reasoning and cause long-term health complications if left unchecked.15 
Social Isolation
Social isolation caused by Tourette's can occur at the first sign of an adolescent complex vocal tics. It can cause a person to withdraw from everyday life and avoid treatment for their condition. Tic disorder impacts everyone differently, from small tics to movement disorders. However, withdrawing from society tends to worsen the symptoms and lead to increasingly negative mental states.  
https://www.npr.org/sections/health-shots/2016/02/16/466947829/of-adhd-drugs-linked-to-increased-er-hospital-visits-study-finds#:~:text=The%20number%20of%20emergency%20room,include%20anxiety%2C%20agitation%20and%20insomnia
https://www.ncbi.nlm.nih.gov/pmc/articles/PMC5854651/
https://www.cdc.gov/ncbddd/tourette/data.html
https://pubmed.ncbi.nlm.nih.gov/25193042/
https://www.cdc.gov/ncbddd/tourette/riskfactors.html#:~:text=Genetic%20studies%20have%20indicated%20that,to%20display%20symptoms%20of%20TS
https://www.ninds.nih.gov/Disorders/Patient-Caregiver-Education/Fact-Sheets/Tourette-Syndrome-Fact-Sheet
https://www.ncbi.nlm.nih.gov/pmc/articles/PMC5403589/
https://www.ncbi.nlm.nih.gov/pmc/articles/PMC4629775/
https://jnnp.bmj.com/content/84/9/e1.25
https://pubmed.ncbi.nlm.nih.gov/17566119/
https://www.wired.co.uk/article/tiktok-Tourette's
https://www.vice.com/en/article/88n4ap/teenage-girls-tics-lockdown
https://www.cdc.gov/ncbddd/tourette/treatments.html
https://www.Tourette's-action.org.uk/71-behavioural-therapies.html#:~:text=Functional%20Intervention&text=A%20therapist%20will%20help%20a,that%20person%20when%20they%20tic