How Does Social Media Affect Teenagers' Mental Health?
Why and how does social media affect teenagers? Read on to learn about teenagers' mental health, symptoms, and the effects of social media.
Teenagers and Social Media
Every human, including teens, is naturally social. With the increase in social media influence, there's a tendency for excessive use. In teenagers, high use of social media can result in depression, isolation, and anxiety.
Social Media: How Does it Influence People?
Even with the seemingly adverse effects of social media, there are various examples of the positive impact of social media. For instance, it helps in building long-distance relationships with people.
Young adults are highly prone to experiencing various teenage mental health effects of social media, especially without adequate supervision. Keep reading to answer the question, "how does social media affect teenagers?"
How Does Social Media Affect Teenagers' Mental Health?
Social media proves to be a big part of many teenagers' lives. According to a 2018 survey by Pew Research Center, 45 % of 13- to 17-year-old teenagers are constantly online. 97% of these teenagers also use social media platforms like Facebook, Instagram, and YouTube.1
Social media and mental health are connected. High use of social media can negatively affect teenagers by distracting them, disrupting their sleep patterns, and exposing them to bullying.
According to a 2019 study involving over 6,500 12 to 15-year-old individuals, those who spent more time on social media were at a higher risk of teenage mental health problems. Another study among teens found that using social media thrice daily or more showed poor mental well-being.
How Does Social Media Affect the Teenage Brain?
Social media can affect the teenage brain by providing feel-good chemicals from entertaining content or activity online. Most teens may also utilize social media to escape and cope with underlying teenage mental health challenges. Hence, spending too much time on any social media platform can distract them from physical relationships.
How Does Social Media Cause Low Self-Esteem in Adolescents?
Research shows that social media and mental health relate. Excessive use may lead to low self-esteem in young adults. This statistic majorly applies to ladies between the ages of 10 and 14. Teenagers tend to become less aware of themselves and their identity and begin to compare themselves. These comparisons may include clothes, interests, grades, and overall appearances.
Do Social Media Apps Cause Body Image Issues in Teenage Girls?
Social media and mental health relate as social media apps can cause body image issues in teenage girls. Statistics show that girls often use photo editing applications to edit their pictures before sharing them on social media. These girls may also exhibit more significant eating concerns.
Symptoms of Social Media Anxiety Disorder
A social media anxiety disorder may cause stress and anxiety due to the inability to access social media. This anxiety is often due to the fear of missing out (FOMO).
Individuals who experience FOMO try to check their social media accounts for the most recent activity. FOMO relates to lower mood and life satisfaction.
2 
Cognitive Psychology Explores Our Mental Processes
Also, Cognitive perspective explores our mental processes. It helps show us how our mind works. By doing studies that follow our reactions to certain stimuli, we can see what parts of the brain do specific things. Tracking brain activity based on our responses to external stimuli helps us further identify areas of the brain that cause specific daily functions. This can also help a lot with traumatic brain injury (TBI) and learning disability treatment.3 
Indicators of Social Media Anxiety Disorder
Here are some of the significant symptoms of social media anxiety disorder to note:
Spending more than six hours each day using social media
Lying about the amount of time spent on social media
Withdrawing from family and friends
Failing in attempts to cut back on social media use
Neglecting or losing interest in school, work, and favorite activities
Experiencing severe nervousness, anxiety, or withdrawal symptoms when unable to check social media
Having an overwhelming desire to share on social media feeds
Health Conditions Tied to Young People's Use of Social Media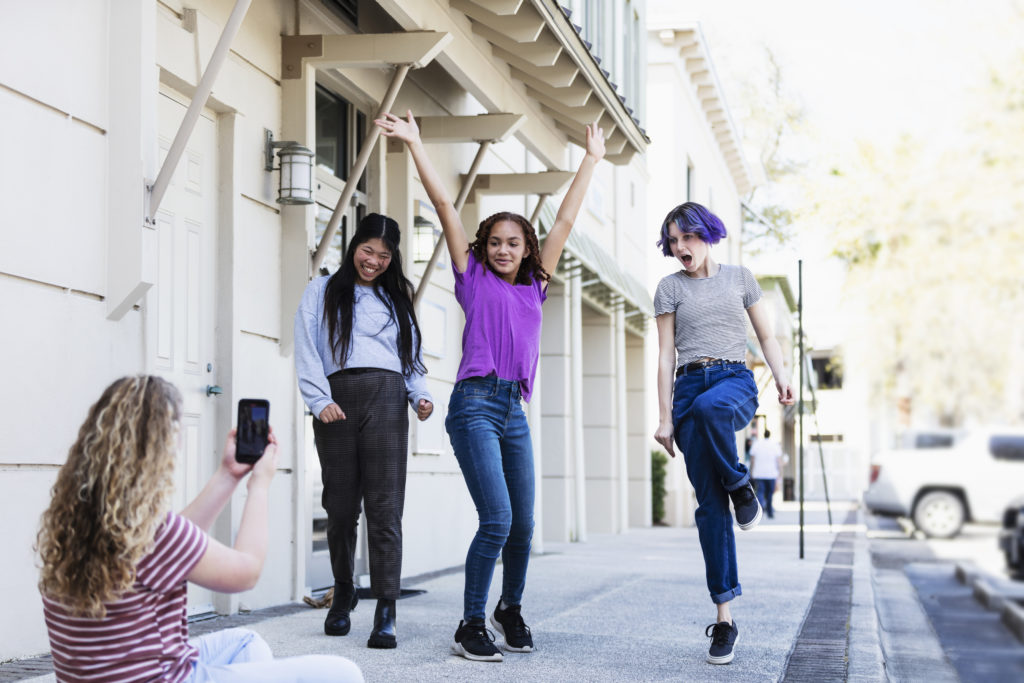 Excessive use of social media can affect one's physical and mental well-being. Social media effects on teen stress are usually very noticeable in their everyday lives. Some of the teen social health conditions tied to social media use include:
Teenagers and other young people tend to experience evident effects of social media on their overall mental well-being.
Social media
effects on teen stress may include loneliness, self-harm, and suicidal thoughts in extreme cases.
There's a relationship between social media and depression. Reports show that young adults who spend more time on social media platforms were shown to experience significant levels of depression. Most teenagers feel isolated because social media interactions may be less emotionally satisfying.3 
Apart from the relationship between social media and depression, teens also develop anxiety. Due to the fear of missing out, teenagers often develop anxiety symptoms. Most teens get anxious because they don't want to miss out on social group interactions or social media popularity.
Excessive use of social media typically causes teenagers to use their phones around bedtime. This effect leads to bad sleep patterns, which affects productivity.
Most teenagers envy other teens on social media because they want something those individuals possess. It could be related to their body structure, dress style, or overall popularity.
Social interaction online is different from physical interaction. For this reason, teenagers who don't develop their physical communication skills may have challenges relating to others in real life.
4 
What Are The Positive and Negative Effects of Social Media Platforms?
There are various effects of social media on teenagers' lives, without a doubt. Unfortunately, the negative effects of social media may seem to outweigh the positive.
Positive Effects of Social Media Platforms
Here are some of the significant positive effects of social media:
Staying in touch with friends and family when face to face interactions are not possible
Safety updates can be shared on school social media sites during emergencies
Many groups share events on social media, like clubs, sports, music, and other organizations
Teens can connect with other like-minded people through shared hobbies and interests
Kids can share healthy coping skills and learn positive behaviors from others
Online substance abuse and mental health treatment can help kids who struggle to find support
Negative Effects of Social Media
Some of the negatives of social media use include:
Social comparisons can impact your teen's self-esteem
Social media can "hijack" your teen's brain
Teens might use social media excessively to escape or cope with underlying mental health conditions
Distracts your teen from developing real-life relationships
Leaves your child vulnerable to cyberbullying, disturbing content, or sexual predators
Tips and Resources for Teens and Children
To overcome excessive use of social media platforms and its effects, it's helpful to:
Set limits on the time spent on social media
Be aware of how using social media makes you feel
Avoid falling into the negativity trap (always feel positive about yourself)
Remember that what you see on social media isn't real
Tips and Resources for Parents
Helping your teens use social media appropriately isn't so challenging. Here are some helpful tips to follow:
Keep tabs on how your children feel when using social media
Monitor children's social messages to ensure they aren't harmful
Set and enforce guidelines for children's social media use
Be a stellar example of appropriate social media use